The founder of Meishinryu Aiki-Jujutsu : Toshi Asaka
His History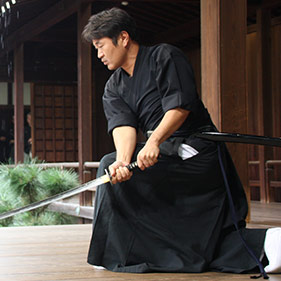 Toshi Asaka (Toshiharu Asaka) was born in 1978 at Yokohama, Japan.

When he was 18 years old, he moved to Los Angeles to study film and movies in Hollywood. He was a big fan of Steven Segal and had a strong desire to study his Aikido all time. When he was 19 years old, he found Segal's Aikido Dojo at Santa Monica and immediately joined the school. Within the many years of hard training under Matsuoka Sensei who is the direct and the top student of Steven Segal, He got his black-belt of Segal Style Aikido. During the training of Aikido, he also practiced with the great Aikido Master Abe Sensei who is 10th degree of black-belt in Aikido and the teacher of Steven Segal.

After he got the black-belt, he left the U.S. and came back to Japan in 2006. Because there is no Steven Segal style Aikido in Japan, he established Aikido Dojo called "Tenshokai" with his friends and started to teach Aikido to local people especially to kids in Yokohama.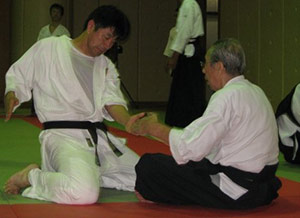 In 2006 at the same year when he opened his dojo, he joined Daitoryu Aiki Jujutsu Roppokai and fell in love with Okamoto Sensei and his special technique of "Aiki".

He realized that this Aiki is something completely missing in Aikido and decided that whatever it takes, he wants to learn and be able to use this secret technique.

Since then, he never missed any class of Okamoto Sensei's lessons and seminars. He was the first one to show up in the class and practiced almost an hour after the class. Okamoto Sensei really liked his attitude and sometimes gave him the special lessons of Aiki. In every after classes, he always bring the proper questions of Aiki and asked Okamoto Sensei, and Okamoto Sensei always give him the answer.

After 4 years of hard training, he finally figured out the principle of "Aiki." He made a promise with Okamoto Sensei that carrying Okamoto Sensei's Aiki to the next generation and left Roppokai in 2010.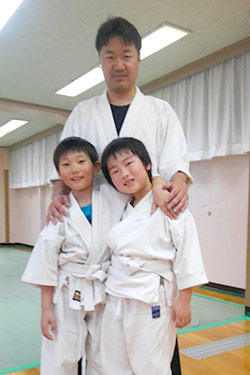 In 2015, Okamoto Sensei passed away, and to keep the promise with him, Toshi combined both Steven Segal's Aikido and Okamoto Seigo's Daitoryu and established "Meishinryu Aiki-Jujutsu."

Today, he teaches his both Aiki of Daitoryu and Jujutsu of Aikido to his own students. He also has many international students. People from all over the world, such as USA, Russia, Colombia, and Venezuela visit Tenshokai and study Meishinryu. Also, he has Canadian students in the Canadian Embassy in Japan.

"My mission is carrying this Aiki, the special gift from Okamoto Sensei, and Aikido techniques and pass on to the next generation. Aiki as part of Japanese traditional martial arts is the history that has been carried on over the generation by generation, and I have to bring it to the next generation. Not only Aiki as the skills but also I have to teach the philosophy of Aiki in Aikido, The way of the Harmony. This is my mission in Meishinryu." -- Toshi Asaka.


In addition: Toshi Asaka also practice Iai and Kenjutsu, the Japanese swordmanship. He considers that leaning Kenjutsu and Iai is also very important to improve his Aikido and Aiki because they are all related and connected as one Japanese Budo.


Contact Us if you are interested in Join Meishinryu Aiki Jujutsu
Yokohama main Dojo
We have a classe every once a week at Yokohama. Nitta Chiku Center 2F From 7:00pm to 8:30pm
The location

Please contact us to confirm the date and time before you visit this dojo. E-mail

Also, please feel free to contact Toshi Asaka for inviting the instructor to your country or location to have a seminar or any international relationship with Meishinryu Aiki-Jujutsu Tenshokai.

Please visit the facebook page, too.